Norwich City Football Club


Norwich City Football Club is an English professional football club based in Norwich, Norfolk. The club currently plays in the Championship, the second tier of English football, having been relegated from the Premier League in 2016. They were first promoted to the top flight in 1972. Norwich have won the League Cup twice, in 1962 and 1985. The club has never won the top flight, but finished third in 1993.

The club was founded in 1902. Since 1935, Norwich have played their home games at Carrow Road and have a long-standing and fierce rivalry with East Anglian rivals Ipswich Town, with whom they have contested the East Anglian derby 134 times since 1902. The fans' song "On the Ball, City" is regarded as being the oldest football song in the world which is still in use. The club plays in characteristic yellow and green kits and are nicknamed The Canaries after the history of breeding the birds in the area.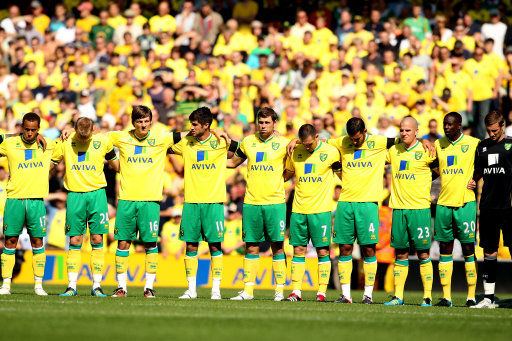 Norwich city – 2016/17 Season

story

Norwich City F.C. was formed following a meeting at the Criterion Cafe in Norwich on 17 June 1902 and played their first competitive match against Harwich & Parkeston, at Newmarket Road on 6 September 1902. They joined the Norfolk & Suffolk League for the 1902–03 season, but following a FA Commission, the club was ousted from the amateur game in 1905, deemed a professional organisation.

Later that year Norwich were elected to play in the Southern League and with increasing crowds, they were forced to leave Newmarket Road in 1908, moving to The Nest, a disused chalk pit. The club's original nickname was the Citizens, although this was superseded by 1907 by the more familiar Canaries after the club's chairman (who was a keen breeder of canaries) dubbed his boys 'The Canaries' and changing their strip to yellow and green. During the First World War, with football suspended and facing spiralling debts, City went into voluntary liquidation on 10 December 1917.

The club was officially reformed on 15 February 1919 – a key figure in the events was Charles Frederick Watling, future Lord Mayor of Norwich and the father of future club chairman, Geoffrey Watling. When, in May 1920, the Football League formed a third Division, Norwich joined the Third Division for the following season.
Their first league fixture, against Plymouth Argyle, on 28 August 1920, ended in a 1–1 draw. The club went on to endure a mediocre decade, finishing no higher than eighth but no lower than 18th. The following decade proved more successful for the club with a club-record victory, 10–2, over Coventry City and promotion as champions to the Second Division in the 1933–34 season under the management of Tom Parker.

The 2003–04 campaign saw the club win the First Division title, finishing eight points clear of second-placed West Bromwich Albion and returned to the top flight for the first time since 1995. For much of the 2004–05 season however, the club struggled and, despite beating Manchester United 2–0 towards the end of the season, a last day 6–0 defeat away to Fulham condemned them to relegation. The club finished in ninth place in The Championship in the 2005–06 seasonand, as results in the 2006–07 season went against City, manager Nigel Worthington was sacked in October 2006, directly after a 4–1 defeat by Burnley. On 16 October 2006,


Norwich revealed that former City player Peter Grant had left West Ham United to become the new manager, and in February 2007, Grant replaced assistant Doug Livermore with his fellow Scot, Jim Duffy. Grant's side struggled for most of the season and made a poor start to the 2007–08 season, with only two wins by mid October; following a 1–0 defeat at fellow-strugglers Queens Park Rangers, Grant left the club by "mutual consent" on 9 October 2007. On 30 October 2007, former Newcastle United manager Glenn Roeder was confirmed as Grant's replacement.Roeder kept Norwich in the Championship with a 3–0 win over Queens Park Rangers, Norwich's penultimate game of the season.


On 14 January 2009 it was announced that Roeder had been relieved of his first team duties after 60 games in charge, and just 20 victories. A week later, Bryan Gunn was appointed as manager until the end of the season,but he was unable to prevent the club from being relegated on 3 May 2009, after a 4–2 defeat away at already relegated Charlton Athletic.Following their relegation, their first game of the season resulted in a shock 7–1 home defeat against East Anglian rivals Colchester United. This was the club's heaviest ever home defeat, succeeding a record that had stood since 1946. Two fans entered the pitch and ripped up their season tickets after just 22 minutes when the team were already 4–0 down,and Gunn was sacked six days later.

On 18 August 2009, Paul Lambert was announced as the new manager, leaving his post at Colchester, and nine months later led Norwich to promotion back to the Championship as League One Champions, after a single season in League One. The following season saw Norwich promoted to the Premier League, finishing second in the table behind QPR and completing the first back-to-back promotions from the 3rd tier to the1st since Manchester City in 2000.

The club finished in 12th place in their first season back in the Premier League. Manager Paul Lambert resigned within a month of the season's close to take up the vacant managerial spot at league rivals Aston Villa, and was replaced by Chris Hughton. The 2012–13 season started poorly with a 5–0 defeat to Fulham and a bad run of form that was followed by a club record unbeaten run in the Premier League.

A 1–0 home defeat to Luton Town on 26 January 2013 resulted in Norwich becoming the first English top-flight team to lose a FA Cup tie to a non-league side in 24 years. Norwich secured their third year in the Premier League with consecutive victories
in the last two games of the season, to finish 11th in the league.

However they were relegated back to the Championship after finishing 18th in the 2013–14 season. After a mediocre first half of the 2014–15 season, Neil Adams resigned which paved the way for the appointment of then Hamilton Academical manager Alex Neilin January 2015. The appointment reinvigorated Norwich's season and after narrowly missing out on automatic
promotion back to the Premier League, victory in the 2015 Championship playoff final secured an immediate return to the top division of English football. This was only temporary relief, however, as at the end of the next season they were relegated again to play season 2016/17 in the Football League Championship.

The following season started successfully, with the club sitting top of the Championship in mid October. However, a poor run of form and results followed, which included five consecutive defeats, and saw the team slide to as low as twelfth in the table. On 10 March 2017, Alex Neil was sacked by the club , with first team coach Alan Irvine placed in caretaker charge for the remainder of the season, which saw the club finish eighth in the Championship. On 25 May 2017, the club appointed German coach Daniel Farke as head coach, becoming the first foreign head coach of the club in its 114-year history.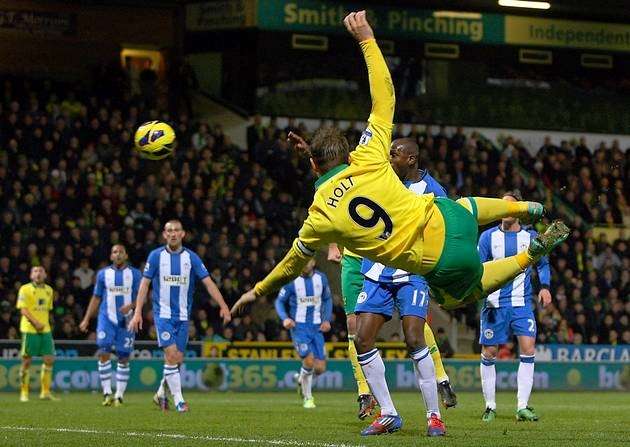 Norwich City | Greatest Goals

Stadium
Norwich City F.C. played at Newmarket Road from 1902 to 1908, with a record attendance of 10,366 against Sheffield Wednesday in a second round FA Cup match in 1908. Following a dispute over the conditions of renting the Newmarket Road ground, in 1908, the club moved to a new home in a converted disused chalk pit in Rosary Road which became known as "The Nest". By the 1930s, the ground capacity was proving insufficient for the growing crowds and in 1935 the club moved to its current home in Carrow Road.

The original stadium, "the largest construction job in the city since the building of Norwich Castle... was "miraculously" built in just 82 days... it was referred to as 'The eighth wonder of the world'" An aerial photograph from August 1935 shows three sides of open terracing and a covered stand, with a Colman's Mustard advertisement painted on its roof, visible only from the air. Another photograph, taken on a match day that same season, shows that despite the era's limited car ownership, a parking area was provided at the ground.

Floodlights were erected at the ground in 1956 whose £9,000 costs nearly sent the club into bankruptcy but the success in the 1959 FA Cup secured the financial status of the club and allowed for a cover to be built over the South Stand, which was itself replaced in 2003 when a new 7,000 seat South stand, subsequently renamed the Jarrold Stand, was built in its place.

1963 saw the record attendance for Carrow Road, with a crowd of 43,984 for a 6th round FA Cup match against Leicester City,
but in the wake of the Ibrox disaster in 1971, safety licences were required by clubs which resulted in the capacity being drastically reduced to around 20,000. A two-tier terrace was built at the River End and soon after seats began to replace
the terraces.

By 1979 the stadium had a capacity of 28,392 with seats for 12,675. A fire in 1984 partially destroyed one of the stands which eventually led to its complete demolition and replacement by 1987 of a new City Stand, which chairman Robert Chase described as "Coming to a football match within the City Stand is very much like going to the theatre – the only difference being that our stage is covered with grass". After the Hillsborough disaster in 1989 and the subsequent outcome of the Taylor Report in 1990, the stadium was converted to all-seater with the corners being filled. Today, Carrow Road is an all-seater stadium, with a capacity of just over 27,000.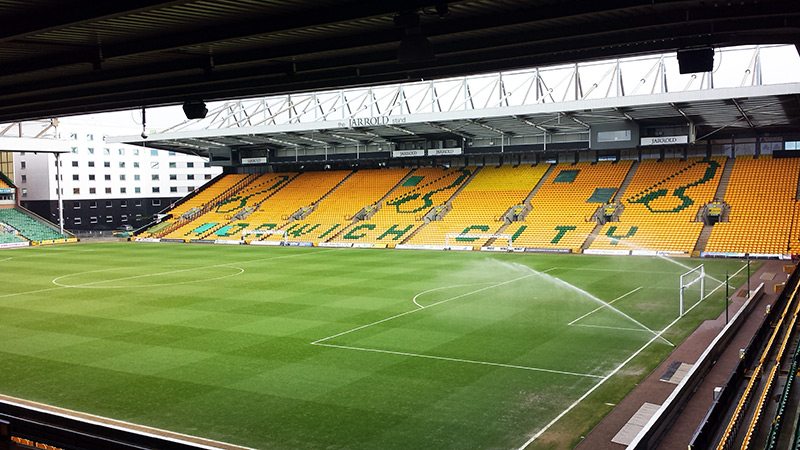 NORWICH CITY at Wembley

Statistics and records
Kevin Keelan holds the record for Norwich appearances, having played 673 first-team matches between 1963 and 1980. Ralph Hunt holds the record for the most goals scored in a season, 31 in the 1955–56 season in Division Three (South), with Johnny Gavin the top scorer over a career – 122 between 1948 and 1955. Mark Bowen holds the club record for most international caps, with 35 for Wales.

The club's widest victory margin in the league was their 10–2 win against Coventry City in the Division Three (South) in 1930. Their heaviest defeat in the league was 10–2 against Swindon Town in 1908 in the Southern Football League. Norwich's record home attendance is 43,984 for a sixth round FA Cup match against Leicester City on 30 March 1963. With the introduction of regulations enforcing all-seater stadiums, it is unlikely that this record will be beaten in the foreseeable future.

The highest transfer fee received for a Norwich player is £10 million, from Southampton for Nathan Redmond in June 2016, while the most spent by the club on a player was the signing of Ricky van Wolfswinkel for £8.5 million (€10 million) from Sporting Lisbon. This transfer fee was then equaled by the signing of Steven Naismith from Everton in January 2016.

The club's highest league finish was third in the FA Premier League in 1992–93. The 2015–16 season was Norwich's 25th in the top flight of English football. The club has won the League Cup twice (most recently in 1985) and reached the FA Cup semi-final three times, most recently in 1992. Norwich have taken part in European competition just once, reaching the third round of the UEFA Cup in 1993–94 and are the only British side to beat Bayern Munich in the Olympic Stadium.

Read more about soccer result prediction, sport betting via mobile phone from SBO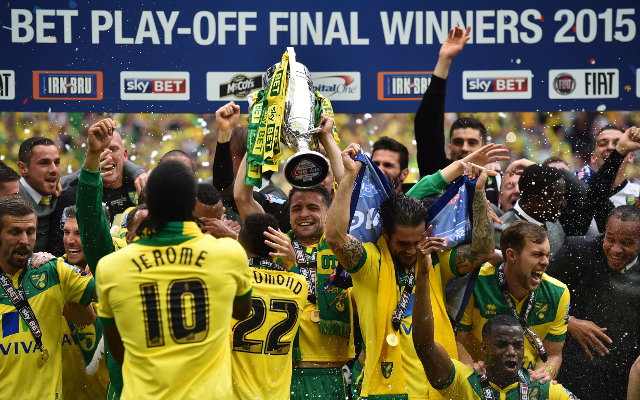 Norwich City 2015/16 - Statistics so far

Honours

Friendship Trophy Each time they meet, Norwich and Sunderland contest the Friendship Trophy, an honour dating back to the camaraderie forged between fans of the two clubs at the time of the 1985 League Cup final that they contested. Sunderland are the current holders having beaten Norwich 3–0 at Carrow Road on 16 April 2016 in the 2015-16 Premier League.

Information about Norwich City
Norwich City's new management structure may not work, says Ipswich Town chief Ian Milne

Ipswich Town managing director Ian Milne doesn't believe in the new management structure at Norwich City. In the wake of Jez Moxey's departure as chief executive, the Canaries restructured their business, appointing Steve Stone as managing director to work alongside Stuart Webber, who arrived from Huddersfield.

New head coach Daniel Farke will report directly into Webber but Milne isn't about to adopt the Canaries template at the other side of the A140. Milne believes there should only be one leader taking decisions on the football operations and still thinks he has the right man in Mick McCarthy to bring success back to Portman Road.

"It's interesting what's going on at Norwich," said Milne, whose main responsibilities surround off-field matters.
"They've gone for a sporting director and a head coach, but I think there can only be one captain of the ship the manager.
"They are trying that route and it's clearly worked at some clubs, but not at the majority.

"We're going to see more younger, foreign managers, like the (David) Wagners, but we believe in what we are doing here. We think it works well and it's proven to have worked well in the not too distant past.
"Good managers do not grow on trees. We see that with so many of the managerial appointments that haven't worked for clubs."

McCarthy oversees everything at Portman Road with 'director of football, Dave Bowman overseeing the scouting operation. Many Blues fans were calling for McCarthy to go this summer after the club's 16th-placed finish. The former Republic of Ireland boss said back in January that he would consider his popularity levels among supporters before committing to the final year of his contract.

"I don't think that was a good time for him," said Milne. "He was getting a lot of criticism, but we've moved on and he'll come back refreshed."Asked if the club had considered potential McCarthy replacements during that period of uncertainty, Milne replied: "I don't think it came to that. Mick and (owner) Marcus (Evans) were talking the whole time. I think Mick made a lot of those comments after matches when emotions were incredibly high."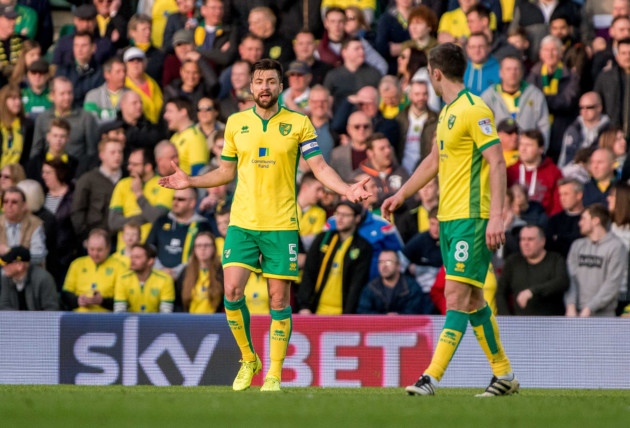 Norwich City aim for the Premier League at Wembley

Norwich City: Steven Naismith determined to stay and impress new boss Daniel Farke
Steven Naismith is aiming to impress new Norwich City head coach Daniel Farke and has no plans to leave Carrow Road before the end of his contract.The Scotland striker does envisage a return to the domestic scene in his homeland - but not in the near future.

Naismith was not an automatic first choice after Norwich dropped down to the Championship in England. "They changed the manager and, looking forward, it's going to be really exciting," said the 30-year-old. Naismith moved to Carrow Road from Everton in January 2016, but he was unable to help prevent Alex Neil's Canaries being relegated and fell out of favour under his fellow Scot.

After Neil was sacked in March, the striker was a more regular starter as Norwich ended the season with another Scotsman, Alan Irvine, in interim charge.Naismith realises more game-time will again be his goal under former Borussia Dortmund reserve-team coach Farke.

"That's a factor," he said. "As you get older, it's all about routine and playing, so that's when you do need to think about playing more."I've got two years left of my contract there, I still think I can contribute massively and help the club get to where they want to be, and we'll see how it goes in pre-season."

Naismith has worked under a number of managers in his career and hopes Farke will have a similar impact on him as Roberto Martinez did at Everton."You've got a new manager, a German, so it's something new for me," he said. "I'm hoping to learn lots from him.

"Growing up, I had a lot of British-based managers who gave me my fundamental learning skills for what I've got and the type of player I am."I had Martinez - that was the total opposite - and he gave me a whole new dimension on how to play the game."I loved that and now, hopefully with the new manager, I'll learn much more.

"The club has had a shake-up and no player at the club is safe - and that's probably a good situation for the club in terms of moving forward."Farke has already added Marley Watkins, the former Inverness Caledonian Thistle winger, from Barnsley to his forward options, but Naismith has no thoughts of being squeezed out at Carrow Road.

"I signed expecting to see out my contract and that's what I think I'll be doing," said the Scot, who scored seven times in 32 appearances in the 2016-17 season."I'll go down for pre-season. Obviously, when any new manager comes in, that can change if you're not in his plans.

"I'm going back to work as hard as I can, show my worth and hopefully he accepts me and wants me to be a big part of his squad."Naismith's former club, Rangers, are embarking on a reshaping of their squad under new manager Pedro Caixinha, but Naismith does not see himself returning to Scotland just yet.

"I think I will come back to Scotland at some point to play, to finish off hopefully, and I'll assess my options when that day
comes, but I don't like to think too far in front," he added.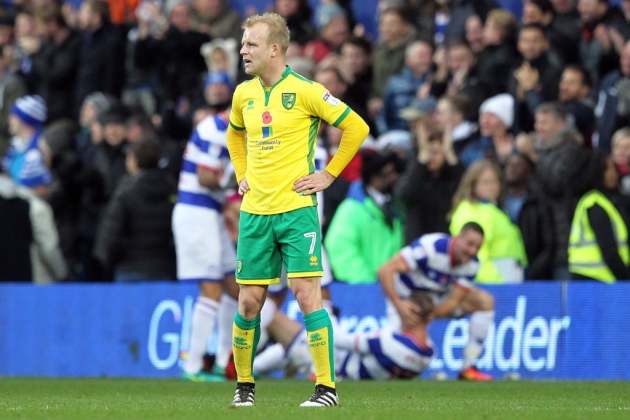 Norwich City FC's Steven Naismith